CoolSculpting is a cosmetic procedure that is growing in popularity among celebrities and suburban soccer moms alike. The non-invasive and non-surgical technology freezes the fat away in sessions that can last anywhere from one to three hours. 
If you have an extra layer of padding and yet you've tried everything to burn the fat away, why not freeze the fat instead?
Here are ten reasons this revolutionary technology is a must-have for those who have gained a little too much and are seriously considering this fat eliminating procedure.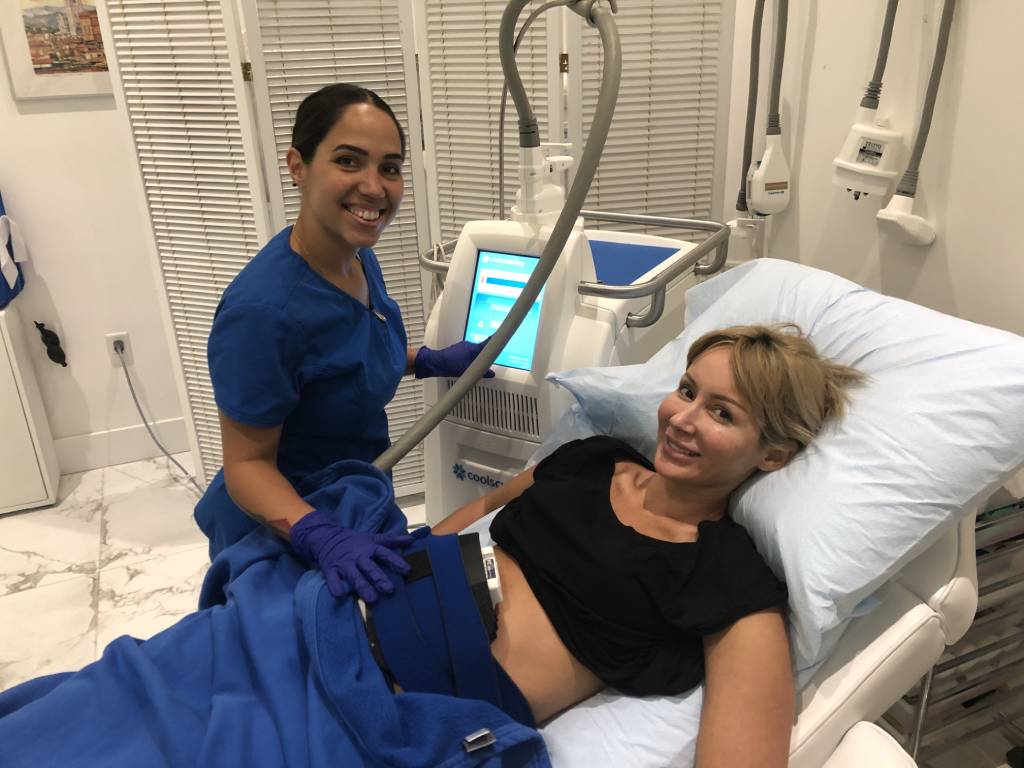 The Fat-Freezing Procedure is Completely Safe

CoolSculpting isn't like surgery, which can come with some risks. Instead, the cosmetic procedure has been cleared by the FDA for the treatment of visible fat bulges in the neck, thigh, abdomen, buttocks, arms, and back. That means that testing has shown that this procedure not only freezes away fat, but the risks are minuscule, which has only added to the popularity of this procedure over the past few years.

Anyone with Excess Fat Can Benefit

If you have a little fat to pinch on your belly, neck or any of your appendages, you are an excellent candidate for the CoolSculpting procedure. You would also be a candidate if you have tried all the diets and exercise regimens, and yet the fat remains. By freezing the fat with CoolSculpting technology, you can finally drop the excess padding to bring out your inner beauty.

No Surgery is Required!

Liposuction used to be the primary means of losing fat without the need for diet and exercise. Once again, like all surgeries, lipo can come with some risks. For many of these types of surgery, anesthesia is used, which comes with more risks and adds to the cost. There is downtime with surgery, which requires you to recover and heal before the results of the surgery shine through. CoolSculpting is different. There is no surgery required with CoolSculpting. During the session, many individuals prefer to read or watch a movie on their iPad. Some even take a nap, making it one of the more relaxing ways to lose stubborn fat.

There is No Downtime

Since there is no surgery, you can resume your normal routine immediately after your CoolSculpting sessions have ended. You could, for instance, have CoolSculpting on your lunch break and go right back to work afterward.

You Get a Customized Treatment Plan

Talk with your CoolSculpting technician about your body contouring goals. By listening to your objectives and measuring the amount of fat you have to lose, you'll receive a fat eliminating treatment plan made just for you. For example, you may decide to treat your legs and arms only, or you may want full-body CoolSculpting to completely transform your appearance. That means that the way you use CoolSculpting to treat the extra pounds is all up to you.

The Fat Cells Stay Gone Forever!

CoolSculpting is based on a technology known as Cryolipolysis, which uses a low-level laser to drop fat cells to a temperature that is just above freezing. The temperature range of the laser is tightly controlled to prevent frostbite. However, since fat cells respond to cold faster than skin cells, the act of cooling the fat cells causes them to die. Your body will then eliminate the cells through your waste, where they will remain gone for good!

The Results Continue for Months!

You can usually see results from CoolSculpting in the first few weeks following your initial session. The most dramatic results will appear in around two months. Your body will then continue flushing the fat cells that were crystalized or frozen by the procedure for two to six months following your CoolSculpting sessions.

You Don't Need Diets or Supplements

While it is recommended that you follow a healthy diet and exercise plan, none of that is needed to be successful with CoolSculpting. You only have to sit through the sessions to see a slimmer and toned new you!

Many patients, after seeing the dramatic results of CoolSculpting, report a newfound desire to take care of themselves with improved diet and exercise routine following the procedure.

 CoolSculpting Comes with Very Few Side Effects

There can be some side effects with CoolSculpting, such as numbness, discomfort, or a deep pulling sensation during the procedure. Afterward, there could be some numbness, redness, bruising, or stinging pain, but these are temporary and will dissipate in a short while. Your CoolSculpting technician may recommend an over the counter analgesic to help with any side effects that may persist.

Each Session is Ultra-Relaxing

Once again, you don't have to do anything but lie there as the CoolSculpting technician treats your arms, head and neck area, abdomen, back, legs, and buttocks. Choose the body parts where you have excess fat and schedule your first CoolSculpting session today.
At Cool Med Spa Miami, we can treat your entire body to this incredible fat-freezing technology. throughout the greater Miami area to see if CoolSculpting is right for you.
Want more information?
CALL (310) 694-4486!
Tagir July 7, 2019